Hey all, It's ya OG Sparkling here, and today we got some MTV art dump. 
In all seriousness this is just a place for me to throw out my pixel art for critique, or just to show it off. Anythings aight here. Feel free to throw some here too, pixel art had been a passion of my 10 year old self, and i just now picked it up, years later. Anyways, here they are! 
Cheers!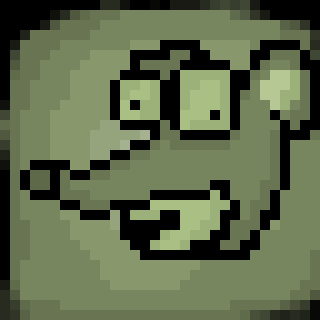 Last edited by Sparkling-Cyanide on Thu Jul 28, 2016 8:52 pm; edited 2 times in total (Reason for editing : Adding Images Instead of Double Posting)
_________________
If you call me Sparkles I will be mildly agitated.
Mildly .
_.
"What someone thinks is important someone else thinks is useless, and Vice-versa. Be careful about what you say, you never know who cares about it" -Anonymous
My only character at the moment is
Kanteb
, so if i'm Roleplaying, that will most likely be who I am.
Yo, See that beautiful profile picture up there? Thanks to Sikopio for that. She's a brilliant artist, check her out!

Sparkling-Cyanide

Junior Member





Posts

: 18


Join date

: 2016-06-02


Age

: 19


Location

: On the mooon~



Pixel things. Pixel things.
These are relevant to my interests.

You got some good-lookng stuff going on here! Especially fond of those pyramids!
I will say though, as a small suggestion, you may wanna play about with increasing the contrast between some of your shades slightly? Some of the shades you use are rather close, and when zoomed out - as pixel work often will be - it can look rather flat due to the shades blending too closely.

Still, as I say, looking great! And nice job on the li'l animation with the stickman!
_________________
Feel free to check out my comic, Bar'd, right here;
My characters may be found here;
Dregan's Toyhou.se
Completed character profiles are;
JC
|
King Zeke
|
Maverick
|
Suave
If you wish to ask any of my characters questions, you can go here;
Ask Dreg's Dudes & Dudettes
Similar topics
---
Permissions in this forum:
You
cannot
reply to topics in this forum