Soooo I actually started this drawing earlier this year, July 31st to be exact, but never really got around to finishing it until now. December 7th @ like 11:55 pm XD ((I'm really bad at being able to complete drawings due to my loss of interest if it takes more than 3 or 4 days to complete)) I finally completed a rough draft Reference sheet of my bb Ivory ;v; This is just more of my style of drawing but I will actually do a ref sheet in a mobian style since the two are different in some aspects. I just anted to give a better idea of what my little bean looks like with her hairstyles 
as well as different outfit tho as rare as it may be. 
 I also thought it'd be coolio to insert her initial design, cause why not .w. I like seeing growth/development in things like these so maybe ya'll do aswell. XD  I started her design in early July, July 1st to be more exact according to the file information. It's somewhat similar to the final design as far as her hair & eyes & as well as tail. ((Here's better quality look of it TwT : https://www.deviantart.com/sonamyfan001/art/Ivory-Vandeviere-REF-textless-775813876 ))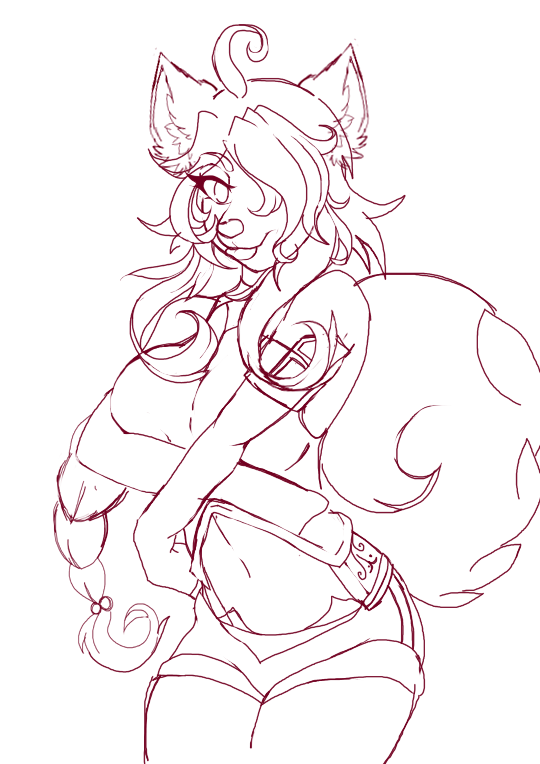 Initial Ivy was more of a furry/anthro style than mobian. I never finished her Initial as far as coloring because I then decided & became distracted on what her final design would be. ;w; I also wanted to insert a ((extremely late)) Halloween drawing ((that I was meaning to have done by halloween but Had to work all that week TwT)) It's not quite finished & was actually based off of an early drawing dating back to 2014 of another OC called Jasper ((this I'm not sure of I'm going based off of file information & this drawing was also a traditional drawing so I'm not exactly sure when I created it.)) I decided to revamp Jasper in a 2014 v. 2018 comparison but ended up changing the character to fit Ivory's comrade/brother Lazarus. XD It just fit his character so well that it just stuck! It's not quite done as far as lineart & stuff it's more of a messy sketch with some lineart here & there. I do intend to finish it but I've pushed so many things back that I'm trying to get those out of the way so I can concentrate on newer things!
My cute little sociopath! ;v; That devilish smiles gets me tbh XD But I hope you guys enjoy my little art dump XD I'm hoping  once I get all caught up I'll be able to work/start on a little animated MV ((music video)) I've been wanting to do on my little bean Ivy & include some BG characters for her to interact with! I'll probably post about it sometime later once I get the story boarding done with & do some castings! ;v; So if you're interested in that sort of thing be on the look out!~

Smol Marshmallow

Junior Member





Posts

: 11


Join date

: 2018-08-01


Age

: 20



Similar topics
---
Permissions in this forum:
You
cannot
reply to topics in this forum