Name: Kane Abel
Nickname: StoneFace (StreetName)
Age: 28
Birthday: 1/11/1991 (Or whatever year is cannon minus his age)
Species: Echidna
Gender: Male
Occupation: Mercenary for Hire
Appearance: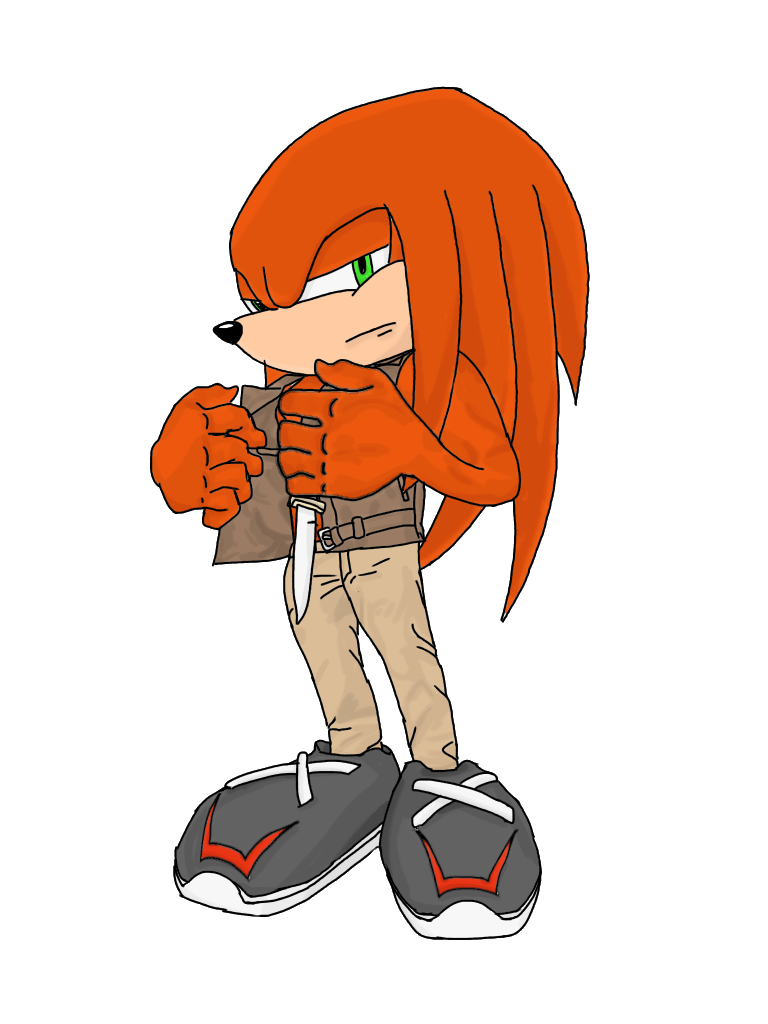 (Art by Me!)
Kane is much larger than most Echidnas, weighing about 100kg, give or take a few kilograms. His height is probably a full 6 inches above normal height for people of his kind. His quills and a greater portion of his skin is a burnt orange. Most other traits are similar to that of the common echidna. 
Kane's Eyes are a pale green.
This Echidna, like many others, doesn't require clothes, but he can be spotted clothing, especially when he's getting paid: 
A particularly old and fraying brown trench coat, usually with a simple white singlet or nothing worn underneath, accompanied by dark denim trousers, usually in good condition.
Personality Traits 
Likes:


Making Money


Plotting ways to undertake various tasks


The Adrenaline rush of risky activities


Dislikes:


Having to talk to Police


Being caught


Being talked about


Losing money


Personality:
Gruff/Suspicious/Careful 
Kane is an Echidna who generally doesn't trust strangers, but for the right price, he will do anything. Or at least anything that won't kill him or make himself known. For the select few (Emphasis on few) who have managed to gain his trust he can be known as a generous individual, always ready to give them a hand. While in his earlier years, he took to street crime, he always considered himself a man of standards, never stealing from disable people or from children. He has a special soft spot for young Kids who turn to crime, as he was once one of them. 
Kane doesn't exactly share his personal life with anyone, except for those whom his personal life involves, and would rather take it to his grave than reveal his identity to the public.
He earned his streetname from the serious and emotionless face he kept while robbing people on the street. 
Combat Traits 
Powers:
Kane's body is built like an Ox, with several years of busting down doors and raiding homes in his youth, the muscles across most of his body are much larger than average. That's not to say he's the biggest dude around, but neither is he the smallest. 
Strengths:


While his physical strength alone is formidable to anyone untrained, he is also armed with a quick thinking mind and razor sharp strategy generation. He can see an opportunity that most would not and jump to it. 


Weapons: 



Kane does in fact carry around a Scagel style hunting knife, always. No matter where or when, he will always have the knife somewhere.




Weaknesses:


He Possesses no supernatural powers, although this could hardly be considered a weakness.


He does in fact have a heart disease known as Atrial Fibrillation, which can cause his heart to 'flutter' or beat irregularly under stress. This rarely causes problems for him in the field, but it has happened before.

Social Information 
Positive Relations
-Klarissa the bat, Ex-accomplice and Love interest
Klarissa the bat: Kane and Klarissa met completely by chance as Kane was undertaking an assassination mission. She was there to rob the exact same person he was there to kill, the helped each other out and eventually become accomplices for a short while. She left unexpectedly and just as Kane had been about to pursue her romantically. 
History


Kane was born into an abusive family of 5, two older brothers and one older sister 

At the age of one, his father became addicted to methamphetamine

When he was six, his father was arrested after police raided their home and discovered him to be guilty of drug abuse, innumerable accounts of assault, and owning

unlicensed

 and illegal weapons.

When Kane was 8, he began his life of crime, making graffiti, stealing from shops, etc

At 12 his oldest brother stole a car, under the influence and drove into a river, drowning himself, his girlfriend and Best friend.

Later that same year, Kane's father died of a Heart attack in Jail, caused by drug use and Atrial Fibrillation, which Kane would later find out he'd inherited


By the time he was 15 Kane's mother drowned herself, the pressure from her maiden family had become too much

When he was 16, his sister had fallen pregnant with her boyfriend and died that same year during childbirth.

From the age of 8 he'd committed crimes, but when his last living relative asked for a loan of $100, Kane refused. His brother threatened to turn him over to the police, so Kane turned a knife over in his chest.

Now with the self conviction of murder of his kin, and thousands of counts of thievery and assault, Kane took to the streets, robbing people and breaking into houses.

He would often get entangled with gangs, but never would he have to fight them himself. 

By the age of 25 and after several years of prison and violence, he gave up on petty theft and moved on to bigger prey. Becoming a mercenary for hire, he came across Klarissa the bat, joining her on several missions, paid and for personal gain.

After a few years Klarissa mysteriously disappeared, just as Kane had begun to develop romantic interests for her.


{Some of you may now, and some of you may not. But I'll offer you the knowledge that this character was originally made by moi and after quite a lot of Roleplaying, I met someone who could actually play the character better than me. I gave Kane to them and they had a great time with him, developing the character in just the right way. Now, after a little discussion, he's realised that he's getting less active with the character and is happy for me to use him now.}
Last edited by Wolf478 on Fri Aug 23, 2019 2:01 am; edited 6 times in total (Reason for editing : Spacing of lines)
---
Permissions in this forum:
You
cannot
reply to topics in this forum