Hello! It is monday evening, and from now on, (hopefully) every week on that same day, I shall start posting art challenges, for all of you to try your hand at! For digital artists and traditional ones alike, sprites, 3D models, realistic and cartoon artists all welcome! It also doesn't have to be Sonic OCs - you can draw anything you wish.

   What are these art challenges, you might ask? Basically, I shall post an art prompt - either one I (or you guys) came up with, or something I found on the internet and thought it to be interesting. I shall try to make them vary - there will be prompts to simply draw your OC in certain situations, or prompts to test your background or realistic drawing skills, or more technical prompts to change up your style or even the medium you're using! From the day I post it, you guys shall have a week (or two, depending on the prompt's difficulty) to draw your entry and post it in this very thread.

   I'm throwing this out right now - it is not a competition! There is no grand prize, nor is it a place to judge other people's entries (unless they WISH to have them be judged). This is a thread entirely for fun and experiments, and something that'll hopefully help you develop your skills!

   As such, there is no need to participate in every single one of the prompts. For all I know, you could post a picture just once, and then never again - it entirely depends on you which challenges you want to partake in and which ones you don't feel like doing.

   Sadly, there shall be a few rules. Bear with me.

1. You may enter more than 1, but no more than 4 entries for one prompt (in case you're feeling very productive).

2. No double posting! Contain all pictures in just one post.

3. Only post pictures for the most recent prompt! The only exception is if you just missed the day to post your picture. But in order to still be able to post the last week's challenge picture, you need to post it with a pic for the CURRENT challenge as well.

4. No bases or tracing! Only entirely original art made by you from scratch (of course, references and inspirations are neither of these so they're all good).


   Then, there's... well, less rules, and more suggestions!

1. I shall be adding a section calleeeedd..... let's say 'cookie points' to all challenges. It'll basically be a few pointers and additional requirements you may fill out for... again, no prize - it's really just suggestions!

2. I don't think I'll be posting examples for the prompts, so please feel free to come up with your own interpretations of the more vague ones should they ever occur! After all, an artist has to be imaginative 8D

3. It's not required, but I guess it'd be helpful to include some reference to your OC's original look would be nice for OC transformation prompts. Or you can just stick to one OC throughout the entire thread and avoid having to post refs - it's up to you.

4. Again - you absolutely don't have to participate in this thread from start to finish. Just draw whatever you think is fun for you!

5. Also feel free to PM me with any art challenges YOU'D like to see here - I've got a list of them that I shall randomly choose from every week, so yours should also pop up at some point!


6. Lastly, if you guys every think you need one more week or even a few days more to complete a challenge... don't hesitate to PM me about that either! I'll probably mess up a few times and post off schedule anyway.


Alright, so... I guess it's time for the first prompt, right?

---------------------------------------------------------------------

1. Introduction!

   Easy enough, right? Just draw a display of what your art is right now, and show everyone what you can do!

Cookie points:

- Draw your main OC, or your sona!

- Don't just leave it at a lazy sketch - show us your signature style, throw in some colour or shadows! It doesn't have to be a masterpiece, but show us just what level of skill you are at right now!

- Write a description of your pic and style - how long have you been drawing? What's your fav part of the drawing process? Where did your style take inspiration from? What do you like about it most, and what do you think you need to work on?
_________________
Avatar made by Uncanny Illustrator c:
Ok so to break one of the forum rules already, I shall double-post to show you all how it's done!
Forgive me Spek.
So for my first entry I decided to post this! Made it yesterday. ...Or two days ago. ...I'm not good with time.
I've been drawing ever since I can remember, of course. But I think I picked up digital art when I was about... 9. That's when I first started messing with sprites, I think. And not long after, I got my first tablet!
I was, in fact, supposed to draw an entirely different piece. What I had in mind was two Elecs, one more like me and the other being the RP one, in a cell-shaded cartoony style with black lines.
But then I saw a piece of art that inspired me to try something else, and I drew this instead. Then I was like 'aw nuts i have nothing for the start of thread now'. Buuut then I realised that this is basically the perfect description of my style.
I do not have one.
Well, when it comes to techniques, I guess. I really fluctuate a lot between thick lines, thin lines, soft and cell shading, messy sketches and whatnots - it all depends on what exactly I'm feeling like right now and what art I saw recently that I thought looked cool.
The things that DO seem to be constant though is 1. Clouds (i love them) 2. Bright colours (same) and 3. A.. sorta.. slightly humanised Sonic style. It's your normal modern Sonic but with actual necks and shoulders and joints in limbs rather than simple noodles. And while I've been experimenting more with more animalistic style, this is the one I'd call my signature one!
And of course, something that probably takes up half of my gallery is Elec using her powers, so of course that had to be put as an introduction pic. So yea, there you have it 8D
_________________
Avatar made by Uncanny Illustrator c:
Blam. I did something.. Happy?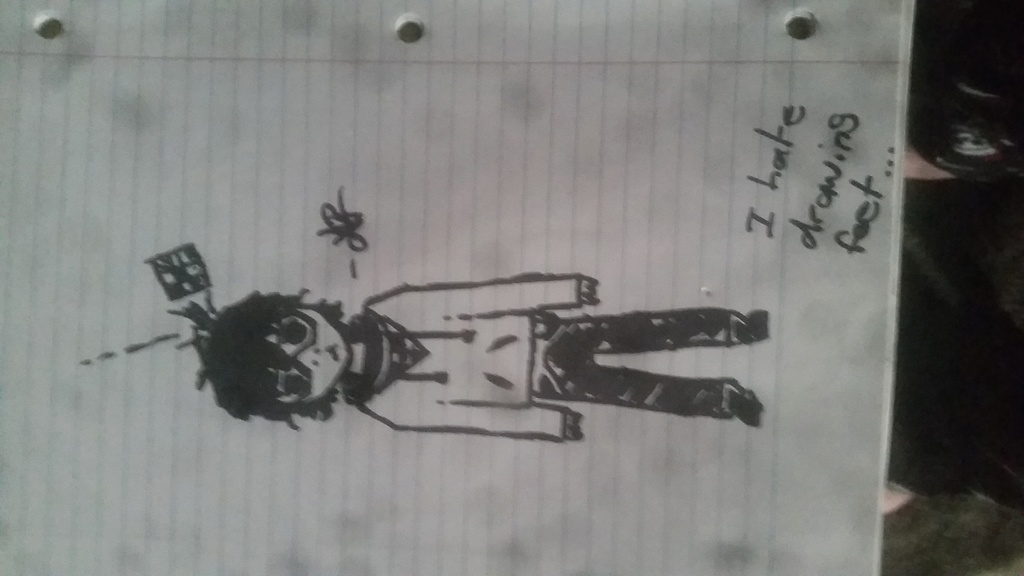 " />

OfficialOverkill

Standard Member





Posts

: 68


Join date

: 2017-11-27


Age

: 15


Location

: On a chair, in front of a computer screen.



So, I've done something that's not fantastic, but it works! 
To put it simply, my art style is quite simple, with not much detail, and it's often been likened to the official sonic style, but with a little something different that I can't quite put my finger on. I've been drawing since early secondary school, but I've vastly improved in the two years I've been here.
_________________
To right the countless wrongs of our day, we shine this light of true redemption. That this place may become as paradise. What a wonderful world such would be.
Fantastic
art of Caen done by the damn fine Electrisa!

The Red Blur

Hero





Posts

: 1236


Join date

: 2016-05-02


Age

: 19


Location

: stumbling through the cosmos...



People have asked for next prompt, so leggo then!


2. Pet companion!

Again starting off with the easier prompts, draw us your OC's (or yours) pet! Or pets!
The twist is that ANY sort of pet-like companion is allowed. Chao, Wisps, some sorta pet demons or fantasy little critters, even Pokemon. They're practically pets except they have anime hairstyles and can kill you.
Real pets can have that too

I realise not every OC DOES have a pet, but surely a lot of them could possibly have one in the future or would like one. Or maybe you just have something in mind for them but it doesn't make sense plotwise. Well, you can throw these concepts here!

Cookie points:

- Draw them WITH your OC, cuddling, playing, or maybe just posing cool?
- Draw more than one! If you feel like it you could draw your OC's entire pokemon party. Or their collection of fish in a big tank. Or pets of SEVERAL of your OCs.
- Tell us something about them, like names, abilities, or how they met your OC! Anything you want, really.
_________________
Avatar made by Uncanny Illustrator c:
Hi! I like art challenges! That's why I made an entry for this one!
Here it is:
This is my fave bab Alina together with her cat Adelaide! Or Kitty, as she likes to call her. The cat's original name is Adelaide, seeing as her evil murder sister has called her that. But Kitty accidentally found Alina's home and also started living with her. Now she has two homes! They're both very nice and caring for her and she enjoys staying at both equally! Maybe she's the link that will bring Prescill and Alina back together c:
_________________
Character Bios:
Boubka Frolig
Alina Marilayra
Craid Taron
Luka Frolig
Prescill Marilayra
My beautiful profile picture was drawn by the fabulous and spectacular
Uncanny-Illustrator
!
_________________
DeltaGear
Main.
"You can break my body... but you cannot touch my soul."
-
Gear
"Battle isn't about beating your opponent. It's about two fighting spirits clashing and growing... a betterment of ones self through combat and understanding your limits."-Aaron"I'll do what it takes too help everyone. Powers or no powers, anyone can be a hero"
-
Darren
Guild cards done by the amazing Electrisa.
Profile picture done by the awesome Spekkal.

DeltaGear

Master Member





Posts

: 694


Join date

: 2017-09-25


Age

: 19


Location

: earth



Thought this could be fun, so I did a little something. Nothing wanted to go well for me though :<
This is my fursona character Julian Winchester surrounded by a few pets I decided to put in the pic.
There's Cyndaquil, one if my favorite Pokemon, on my shoulder. I tend to name my Cyndaquils Pyro after one of my old fire manipulating characters.
I'm holding my fursona's official pet from back on Earth named Sonny against her chest, though I drew them too fat.
Finally, I added in a Chao because Sonic. I remember raising an orange chao frequently in SA2 so that's the one I drew. Don't have a name for them.
If I do this again I'm not using markers. >-<
I wasn't on my computer yesterday, but I am today, so here's a prompt with one day delay! Unintentional rhyme!

3. Non-dominant hand!

This time the randomiser decided to go technical on us - let's do the pretty common challenge of drawing with the hand you don't usually use for drawing. Of course erasers and ctrl+z is allowed since we use these even when drawing with our dominant hands. There's no definite theme for this one, so you can draw whatever it is that your heart desires!

Cookie points:

- Draw the picture with your dominant hand first and then the same one with the non-dominant one and post both so we can see the comparison!

- Again, try not to keep it at a simple sketch (although at the same time, I imagine drawing with your other hand can get really tiring really quickly, so it's no problem if you decide to opt for something easier).
_________________
Avatar made by Uncanny Illustrator c:
GUESS WHO FINALLY DECIDED TO SHOW UP HERE 8D 
I'm trying to get back into the swing of things, so what's better to do that than a challenge? 
This: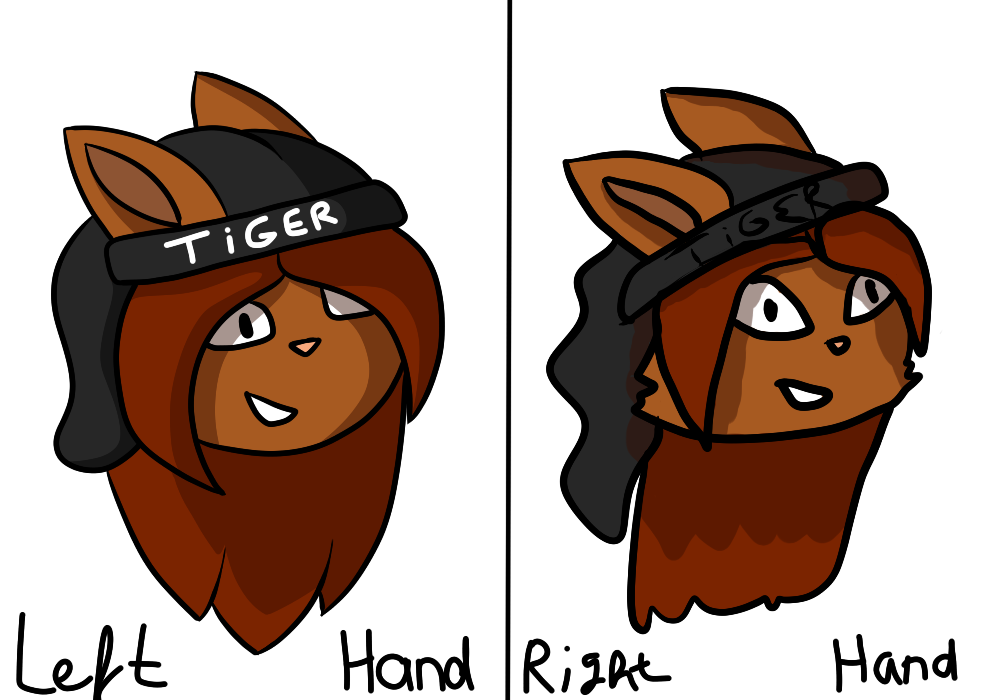 Is the result of my part of the challenge. I honestly didn't have it in me to do more than a headshot, so therefore I tried to shade it (somewhat) as well c: As you can seeeeee (hopefully) I'm left handed! 
Yeeeee
...
OK TIME TO TRY AND WRITE RP POSTS 8D
_________________
Casually succumbing to existential dread
Adorable avatar by our one and only Spark TB~
My characters' bios can all be found on
Toyhou.se
. 

Dione

Staff





Posts

: 546


Join date

: 2016-01-05


Age

: 19


Location

: A pillow fortress



Hello!
..........
Alright listen. I was on vacation most of the first month and then I kinda forgot to update this the second month and then Jedi-K reminded me (thank you by the way) so here we are. No harm done. Hush hush now.

Not many people wanted to murder their non-dominant hands for some reason (I wonder why) so here's a next, more OC-oriented prompt!

4. Alternate outfits!

 Simply take your OC/s (or if you just wanna play fashion designer, draw outfits on some faceless mannequin. Like a professional) and give them some new fancy outfit! Or several, if you'd like! If you're not good at designing outfits yourself, you can just take some models and draw your OC in their clothes, treating this challenge as less of a designing one and more to learn how to draw various materials

Cookie points:

- Make several outfits, be it all for just one OC or an outfit per each OC you'd decide to include!

- Perhaps you could also explain the design choices and/or the occassions your OC would wear them for! Is it their casual wear? Summer clothes? Battle armour, maybe?
_________________
Avatar made by Uncanny Illustrator c:
---
Permissions in this forum:
You
cannot
reply to topics in this forum