Name: Darken Millenium
Nickname: Darken the Fox
Age: 24
Species: Fox
Gender: Male
Occupation: GUN
Appearance: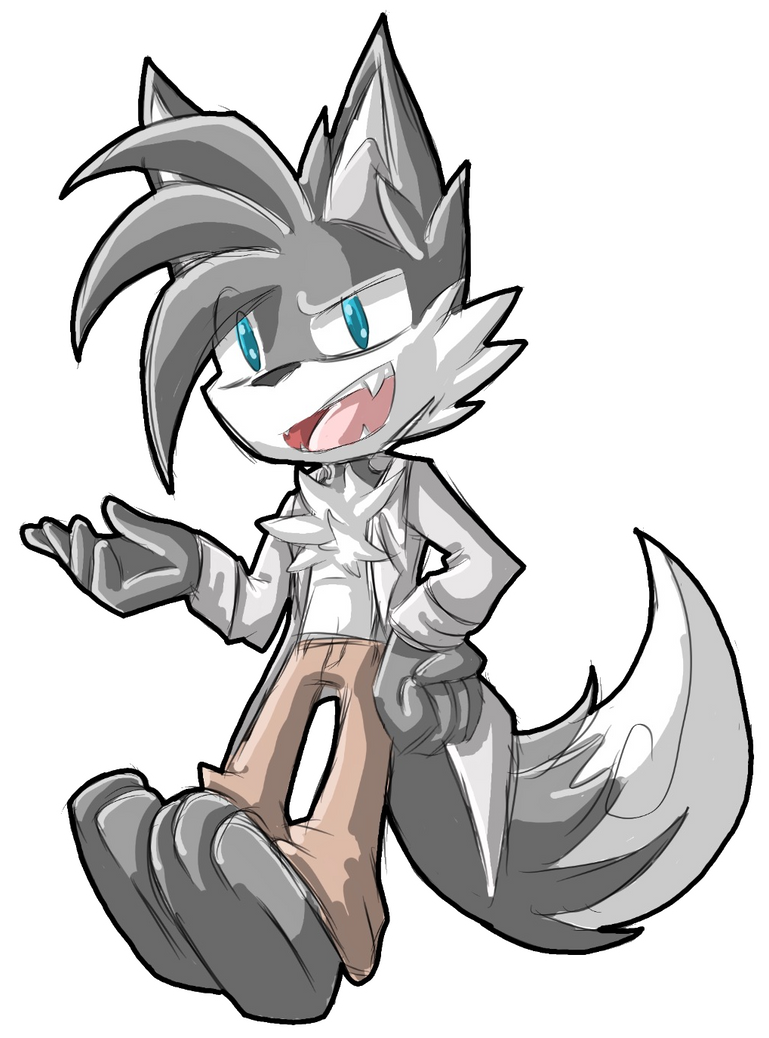 (Art by the Outstanding SeaBunny!)
Darken is similar to most other foxes in his stature, height, and featuring a single bushy tail. But in relation to height, his eye-level is 1cm above most other foxes, putting him at just above-average height. His Body Fur is a Lighter Shade of Grey, allowing enough difference between it and the near-white muzzle & Chest Fur. All other traits are similar to that of the common fox, and as such there are no noteworthy traits of his Base Physical Appearance.
Darken's Eyes are a light colour of blue.
He will usually wear whatever is around the house, but for special occasion he can be known to dress up nicely. But most commonly he can be spotted in either his Gun uniform or:
A White Lab-coat with/without Sand-coloured, ankle-length trousers. The lab coat        is almost always left open and unbuttoned. The Lab-coat -/and leggings are                designed to prevent liquids and materials from staining his fur in the workplace,          but the manner in which he wears it renders it's practicality invalid.
Personality Traits
Likes:



Construction of various objects




Pizza, usually pepperoni, but preferable to spicy toppings




Energy Drinks, usually with high caffeine content




Have Ideas in general




Spending time with freinds 



Dislikes
:



Chicken Meat




Contemplation of the Time-Space Continuum




Delays




The Use of his Last Name



Personality:

Watchful/Intuitive/Nonchalant
Darken is a fox who prefers dealing with things as they come, allowing for the world to change the way it wishes to, and to accept that some things cannot be changed by one action. However, in order for him to continue this opinion, he must keep a close eye on those around him and ensure that they are able to do what they must to change what he cannot. His lack of enthusiasm in changing the world is continually supported by his ability to predict something close enough to the ETA to accept it the best way possible. Darken Will ensure the safety of those in his company, with his life, no questions asked. This fox very rarely attempts to intimidate others and goes through various methods to continue his non-threatening appearance.
Darken Hates talking about his past, and would prefer to leave it all behind. The Trauma of his memories keeps him awake at night, and the only thing that can sedate his nightmares is mental engagement in planning nearby security procedures to ensure that history doesn't repeat itself. If someone were to ask him about his past, he would shake his head and easily move onto another topic.
Darken tends to steer away from violence, simply because it is pain inflicted on another. However, if people he knows, loves or cares about are in danger, Darken will not hesitate to get the conflict over with in the quickest and, if need be, the most violent way possible. 
Combat Traits
Powers
:
Darken has the ability to change form to an enraged and nearly-blinded form of himself, in which he has incredible strength and durability. However, this Power only activated when Darken becomes sufficiently angered, or when he has sustained physical damage. Not only does his toughness change, Darken's Physical body actually undergoes metamorphosis: When Angered/Hurt, he changed from a Fox to a Wolf. While few may not make the connection between the changes in his form, it is a genetic change. This effect only occurs temporarily and can be deactivated by these occurrences:



Sedation




Fulfilment




Loss of conciousness




Death



Strengths
:



Is able to plan short-term strategies with maximum efficiency.




Mentally gifted to be proficient with Warehouse tools and equipment, to utilise such tools to their fullest extent




He is able to keep a level-head in most situations, excluding those that involve extreme physical, mental or criminal harm to a person.




His Anger-mechanism enables his combat ability to change from pitiful to formidable in mere seconds



Weaknesses:



Darken's long term strategies are vague and merely a ghost of an idea.




Unable to organise time efficiently, and some things can take longer than needed.




His physical strength in normal form is weaker than many other creatures, making him an easy target.




Even the mentioning of his Last night can startle him or cause him to falter for but a few seconds.



Social Information
Positive Relation
s
-Kitty the Cat, Housemate.
Kitty the Cat: Darken's Housemate and fellow inventor. Kitty has no other name, and does not care for such formalities. Kitty once ran a mechanics shop herself, before she required assistance from Darken. She is not an emotionally supportive person and prefers to have the facts, but not present them. More information in HISTORY
-Alia the hedgehog, Housemate
Alia the Hedgehog: Darken's housemate and an incredible clingy one at that. Alia once worked for an evil character Known as Tress. She escaped his lair after suffering much abuse, and Joined Darken and Kitty. Alia is responsible for the Conceiving of Darken's Anger-Mechanism. Alia has tremendous infatuation for the grey fox and ensures he knows it. Darken, sadly, does not share the same feelings.
-Breeze the Fox, Housemate and Crush
Breeze the Fox: Darken's Housemate and centre of focus. Darken Rescued Breeze from the clutch of Tress's hand and gave her a home. Grey fox has a large love interest in Breeze and would do things to win her affection, that he would not do for any other. Breeze is a kind person, who wishes to have everyone treated fairly. She is excellent for emotional or mental support, and has the ability to teleport.
Negative Relations
-Tress the hedgehog, Enemy
Tress is a green hedgehog, that has no other name. While he has no actual name, extremely powerful entities & more powerful than him refer to him as Tress and do not require introduction to know his name. It was Tress who had enlisted the slavery of Alia and forced her to undergo missions of assassination and treason. Tress has the ability to exile creatures souls from their body, until further instruction. Those soulless bodies are then completely mindless drones that obey any of his commands. More in HISTORY
Current Faction/s 
History


I will now be posting Darken's backstory the way it was originally intended
As a 3 part trilogy of novels.
You can find that: Book 1 Here
(Posting will be Irregular, I need to edit and re-write a lot of it)

Last edited by Wolf478 on Fri Jul 12, 2019 2:25 am; edited 15 times in total (Reason for editing : Backstory)
Hello, I'm afraid your bio is against some of our rules:

1. No characters that are related to OR friends with the Canon Characters. We don't need 5 girlfriends of Sonic, 7 best friends of Tails, 10 ARK projects that are just like Shadow, etc. The ONLY way you can have your character be friends with a Canon Character is via RPs in the Canon sections of the site. THIS INCLUDES METAL VERSIONS!


4. Your character can't automatically have Chaos Emeralds, Phantom Ruby, Warp Rings or the Master Emerald/shards.

Please edit your bio to fit in with those rules before you use the OC anywhere.


_________________
Avatar made by Uncanny Illustrator c:
Ah, Yes. Thank you. I completely forgot those sections. My mind seems to be failing me.
_________________
Can't wait to start that RP I was going to do.

Nice to meet ya Darken! I hope you have fun with the other OC's, FC's, recolors- whatever you call 'em.
Last edited by RainbowTH on Sun Jun 17, 2018 8:13 am; edited 1 time in total (Reason for editing : :3)

RainbowTH

Standard Member





Posts

: 65


Join date

: 2018-05-19


Age

: 26


Location

: Marble Zone, South Island



It is great to meet you too! In regards to the Roleplay we were going to partake in, I'm still up to do so. But I assumed that you were going to wait a little longer to find some more Participants?
_________________
Yeah, but nobody said they want to so far. :T  Besides I'm more focused on a new RP: the Intergalactic Hotspot. I should have made it 1x1 but meh.
Last edited by RainbowTH on Sun Jun 17, 2018 10:48 am; edited 1 time in total (Reason for editing : Reasons)

RainbowTH

Standard Member





Posts

: 65


Join date

: 2018-05-19


Age

: 26


Location

: Marble Zone, South Island



It's alright, I'll check out your new one!
_________________
---
Permissions in this forum:
You
cannot
reply to topics in this forum