Name: Hailey Jade
Nicknames: Hails, hailey-kinz, hailey-bailey
Species: Wolf
Age: approx. 21-23
DOB (Date of Birth): 10/13 (oct. 13)
Sex: female
Sexual Orientation: pansexual
Marital Status: Single
Fur Color: a deepish red brown
Eye Color: Brown, gold in certain lightings
Skin Color: muzzle arms and chest are a light yellow skin tone
Fur/Quill Style: she has hair and such like amy but longer and more flow
Accessories: spiked collar and bracelets
Attire: She wears all black. but here are specifics:
upper body: she wears a black tanktop under, with a studded leather black vest
lower body: two belts criss crossed around her waist, leather leggings, combat boots with silver spikes
others: fingerless gloves
Noticeable Features: Septum piercing, her fang has a hangover out of her mouth, mulitple ear piercings
Medical Stuff (Allergies, diseases, disabilities, etc.): PTSD
Family:
mother: unknown
father: unknown
siblings: Shane the wolf (twin brother)
Enemies:
those who hurt her, noone in specific
Alliance (Evil, Good, Neutral, etc.): good, neutral
Previous Residents: Mobius forests
Currently Residing: between knothole and eggmans lair
Abilities: Hailey is a very skilled fighter and spy. she may not have anything super powerful, but her combat skills and resourcefulness make up for that 100%.
Skills: combat, machinery use (guns etc), sneaky and quick
Powers: nothing major, but her eyes determine her mood
Personality: Hailey is very concervative, she likes to keep the peace with everyone. so basically she wanders around and helps here and there, but only when she gets something out of it, but for certain people its no fine (her crushes). overall shes a chill person, no favorites. but dont get her angry, she can be a big snake in the grass!
Strengths: fighting, convincing
Weaknesses: when she's asked to do something she has trouble saying "no", her brother being hurt or captured
Backstory: Hailey was born in a wolf tribe, her parents were the head of the pack. but one day they had to go out and never came back. Hailey and shane grew up to be the alphas of the pack but eventully left leaving the next person in charge.
Fun Facts:
*her favorite colors purple
Likes: Chocolate, Blood, being needed, attention
Dislikes: people who betray her, spiders are pretty nasty too
Stats: (Add other stats for skills not mentioned! (Piloting, Engineering, etc.)
Speed: 8/10
Strength: 9/10
Fighting: 10/10
Firepower: 0/10
Intelligence: 10/10
Endurance: 7/10
Courage: 9/10
repairing weapons: 10/10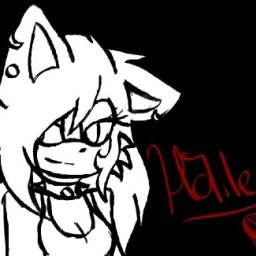 Last edited by HaileyJade on Sat Apr 28, 2018 2:24 am; edited 1 time in total
I did leave a starter by the way.
_________________
One by one
http://sonicrpnation.forumotion.com/t3916-shrike-freelancer-g-u-n-marine
< Shrike Bio

Shrike Marine

Hero





Posts

: 1248


Join date

: 2014-05-29


Age

: 27


Location

: Station Square



Hiya! First of all, welcome to the forum! It's always good to see new members around c:
Then, more to the point, I'm afraid you've missed one of our more important character creation rules: 
1. No characters that are related to OR friends with the Canon Characters. We don't need 5 girlfriends of Sonic, 7 best friends of Tails, 10 ARK projects that are just like Shadow, etc. The ONLY way you can have your character be friends with a Canon Character is via RPs in the Canon sections of the site. THIS INCLUDES METAL VERSIONS!
Furthermore, I would like to ask you to take another look at your character's stats, right now she seems a bit unbalanced.
_________________
Casually succumbing to existential dread
Adorable avatar by 
xHimikox
My characters' bios can all be found on
Toyhou.se
. 

Dione

Staff





Posts

: 573


Join date

: 2016-01-05


Age

: 19


Location

: A pillow fortress



i see, i apologize greatly and fixed her! if anything else needs to be fixed let me know!
Thanks very much, she's ready to be used now! 

Have fun RPing as her ;D
_________________
Casually succumbing to existential dread
Adorable avatar by 
xHimikox
My characters' bios can all be found on
Toyhou.se
. 

Dione

Staff





Posts

: 573


Join date

: 2016-01-05


Age

: 19


Location

: A pillow fortress



Similar topics
---
Permissions in this forum:
You
cannot
reply to topics in this forum