Name
: Rubina 
Nicknames
: Ruby (like to go by this the most)
((this was her original name but it doesnt make much sense now because back then her name was based off a Ruby she used for power))Age
: 17
Species
: hedgehog
Gender
: female
Occupation
: she travels doing small jobs here and there for the townsfolk or anyone who happens to be around her at the time with a problem
Appearance
:
Black coat and her hair matches her skin, the only tan part on her is her (mussel? Is that what its called?), her eyes are a really light blue. Her hair sprouts in two sections over one part of her head and she has these lil pieces of hair on each side of her cheek that curls at the end. Her hair extends to her hips.
Her clothing is kinda like a body suit, its a darkish blue with gradient lighter blue around the hands, bottom of shirt and bottom of the leg. It splits into two, the top extending with full arm gloves, the left hand having her fingers exposed and the top is like a turtle-neck.
Three belts overlap each other around her waist, covering most of her exposed belly. Her pants are up to her waist, the left side completely covering to her ankle and the right side being cut off around her mid thigh.
She wears sneakers or boots (depending on whether or not I feel like drawing one or the other). The boots in a military style and are black, the sneakers being white and blue with a pattern of blue.
(If I ever draw her in anything else I might update this post but for now I'm content with this outfit)
Personality traits
Likes:
- helping out in anyway she can
- cake
-((I can edit it later I haven't used her in so long I forgot she had a personality)
Dislikes:
-((same here))
Personality:
She's a pretty talkative person and can quite often stick her nose in other people's business even if there's no way she can help out the situation, she can often bite off more then she can chew and is too nice for her own good.
((Once again it may take me maybe a few RPs to better understand how I want her to be. So I will probably edit this as well))
Powers:
From the years of traveling, she's really skilled in climbing and has pretty good fast reflexes. She's not the best at it but she is pretty flexible and can run fast, just not as fast compared to Sonic (obviously) and the rest.
Strengths:
- being alone is the norm to her, so on her travels whether she's alone or not is completely fine to her
- her physical strength (as mentioned back in powers)
-she doesn't give up super easily
- She is definitely not anti-social 
Weaknesses:
-unknown
Social information
Positive relations
- She makes friends with towns folk she's meet
- Raychelle and Rei- Her parents who reside to her small town somewhere in the world, still doing what they love
((During the sketching and redesigning process of Ruby I gave her a pinkish purple coloring so I incorporated that scratched color to her dad!))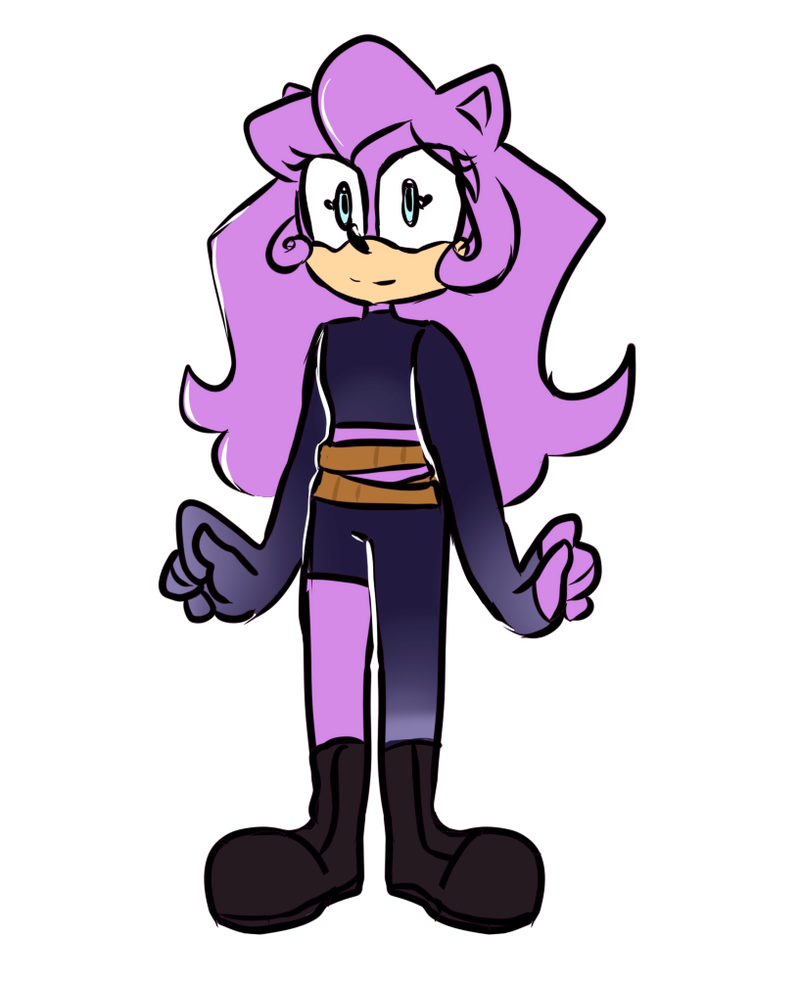 Negative relations
-none so far
Alternate versions 
-Sonic CD:
based this design off the first time i ever drew her
History:
Rubina (Ruby) grew up in a small village, nothing special. It was a kind of closed in community,so everyone knew everyone, near a famous geyser so visitors would come through often. She was an only child and her dad was a pastry maker (hint her love for sweets) and her mom worked as the head of a small Inn that was built for mostly travelers. She loved to see the travelers come in and out of the lil town, it gave her a sense of wonder to travel to small places too. She wandered around but always came back to her hometown beginning at age 15. She never really /traveled/ till the age of 16, so she hasn't been doing this long.
((ill probably add more but is this cliche or vague, i actually kind of like it, it shows where she was influenced in her life))
Last edited by Ruby the hedgehog on Sat Dec 03, 2016 4:40 pm; edited 4 times in total (Reason for editing : adding parent sketches)
Nice! I like it! The Sonic CD version is very cute X3
_________________
<--- When the sugar kicks in 0w0
LINKS:
AKUMAS BIO: 
http://sonicrpnation.forumotion.com/t3556-akuma-s-bio
Himitsu's Bio:
http://sonicrpnation.forumotion.com/t4435-himitsu-the-fox#196576
Link to the person who drew my profile pic for me (So nobody says I stole it >->):  http://aminoapps.com/page/virtual-space/994265/chasska-emerald-rose-the-angeldemonho and here is the link to my profile on Vurtual space:
http://aminoapps.com/page/virtual-space/911137/galaxy-the-wolf
My FanFiction of Akuma:
http://figment.com/books/1015225-The-Story-Of-Akuma
(IF YOU STILL WANT PROOF THAT GALAXY THE WOLF IS ME PM ME)
UPDATED: new parent sketch and lil extra info

Similar topics
---
Permissions in this forum:
You
cannot
reply to topics in this forum