(Previous Lounge's and Infirmary are still open for interaction!)

Two days past, and the Lounge was once more alive and active. Albeit... today an air of unease hung over the place.
Yes, it was true all the luxuries were still there. The food, the wonderful view, the comfy seating. But the TVs... well, they gave the idea of just how serious things were getting.
Six screens - two of them showed highlights of all the battles. The other four, they were each independently dedicated to one of the remaining fighters - a picture of their face to one side, alongside highlights of their own bouts. One screen for Twilight, one for Zephyr, one for Boubka, and one for Froshana. The four semi-finalists faces lingering in place - ready to be cut down to two.
To further emphasise where each fighter was at, occasionally the highlights would trade for statistics and information. How well each had performed, longest match times, success rates of attacks, all that sort of thing. The sort of thing that would allow the competitors to easily check up on one another... and maybe on themselves.

As if that weren't enough to add a level of unease to the place, the Lounge had been filled with artifacts of the competitors previous battles. Reminders of the things that had passed.
Some of the objects were immediately obvious - a boulder from the trap maze ideally placed to once side, with an uprooted 'pillar of balance' leaning against it. Of course, some people's eyes would perhaps more be drawn towards the fluorescent fungi garnered from the caves - placed neatly into the mall's long planters.
Other objects meanwhile managed to blend in a bit more. The slot machine from the casino didn't seem too out-of-place at the end of the bar. Plus, the set of china ornaments along it's edge seemed right at home!
Not too far from that was a display - similar to what one would find in a museum. One of the laser tag guns was held behind glass as a historical weapon would be - to it's right, Esme's improvised club from the skatepark. In fact, she'd seemed to manage a double-feature in the museum area, her and Froshana's outpits from the swimming pool adorning two armour stands to one side.

To somewhat offset the tension in the air of the Lounge today, once more, Greg stood front and centre, welcoming everyone in. Today the zebra had decided to wear trousers. Top-class man.
_________________
Feel free to check out my comic, Bar'd, right here;
My characters may be found here;
Dregan's Toyhou.se
Completed character profiles are;
JC
|
King Zeke
|
Maverick
|
Suave
If you wish to ask any of my characters questions, you can go here;
Ask Dreg's Dudes & Dudettes
For what was possibly the first time, the red-furred hedgehog was apparently one of the first combatants to poke her head into the lounge. She hadn't returned to the lounge after her last fight, instead electing to go back to her where she was staying and try to snort out the feeling of chlorinated water from her sinuses...
She was still surprised by the ending of the previous battle. It seemed that once again she'd managed to succeed through luck. Her left paw lowered to the little white emerald keychain still dangling from one of her belt loops. Good luck charm, indeed.

Upon entering the lounge, Froshana paused as her eyes immediately darted about noting various items that were certainly not here before. It wasn't until she spotted the two swimsuits on display that she managed to make the connection that these were all items from the fights that had already occurred.

Geez, she really needed to wake up...

The extra stripes out in the open off to one side caught her attention and she glanced over to see the apparently shirtless zebra from before. If he had already greeted her when she walked in, she appeared to have missed it while eyeballing the various 'souvenirs' now in the lounge.
Now it only took her a short moment to blink and lift her gaze up to a more appropriate level and manage a slightly awkward smile and a short, "Oh, er... Morning."

Froshana

Hero





Posts

: 2364


Join date

: 2015-07-04


Age

: 28


Location

: Texas



The cyan Chaos Kitsune walked in again, as he had already did three times. Man. It again felt like months had passed already. He had won another match this time, but his self-esteem seemed to have dropped a little. I mean, this was gonna be the SEMI-FINALS. And his self-esteem didn't really raise from the statistics on the board. It seemed like all other combatants were doing better than him in at least one spot, some greatly surpassed his stats. But he wouldn't give up. The fight wasn't over yet, and he sure wasn't going to give up that easily. He told himself why he was doing this again. It cheered him up again.

He gave a moment to view the room. Oh man did he hated that stone boulder. It made him think back to the bomb. Why did they place a frigin bomb there? Then he stared at the chinese ornaments. Thinking back on it, he could've really cutted himself badly on those plates. And thinking back on the boat, some hectic things happened in the water. He could have drowned! Not forgetting the amount of knives there were in the kitchen part of the cruise ship. These locations were pretty dangerous. He hoped that the next location wasn't even more destrucive than the others he had been to.

It seemed like there was only one other person here, if you don't count Greg. A short "Eyy" Towards him. He began to grab some of the delicious food, and sat down on one of the super soft sofas. He waved towards Froshana. "Hey!" He hinted to her that she could sit next to him on the sofa by petting that spot. "I see that you're left as well!"
_________________
Character Bios:
Boubka Frolig
Alina Marilayra
Craid Taron
Luka Frolig
Prescill Marilayra
My beautiful profile picture was drawn by the fabulous and spectacular
Uncanny-Illustrator
!
((I guess I should just go...? owo))

After waiting a moment by the door and seeing another combatant enter the lounge, Froshana found herself shuffling away quickly. As she made her way back to the table she had seated herself at each day prior, she began to look over the screens and the information they now displayed around the lounge. It didn't take much to make it clearer to her that the other three still in the tournament were more skilled than she was and it would take more than luck to carry her through these semi-finals.

Oh gods, was she the underdog now...?

This thought was interrupted by the motion of someone waving from a sofa in the middle of the room and calling out. Snapped out of her thoughts, the hedgehog looked over from where she'd just pulled out a chair to sit down. There was a little pause as her gaze moved to see him patting the sofa. It took a moment more for her to manage a small smile.

"Yeah, it looks that way," she replied.
Her roommate's voice in her head gave her a hard shove and she figured it might not hurt to actually go talk to someone instead of sitting by herself again. The chair was pushed back in and the hedgehog started off to join the kitsune. She didn't sit right next to him once she got there, but did leave a good respectable distance between the two of them. Her eyes, however, darted to one of the screens that showed the contestants and their names. She was going to just cheat and use that to engage in small talk but she wasn't entirely sure how his name was pronounced. Should have paid more attention before, oops!

So for now, she just kept her eyes on the screens. Surely he'd say something else before too long, right?

Froshana

Hero





Posts

: 2364


Join date

: 2015-07-04


Age

: 28


Location

: Texas



Semifinals. As he entered, this was the only thing he could think of. Usually, he would already be checking everything he could so nothing went wrong, but not this time. He had already done that countless times in his way here. Strategy, equipment, mental preparation... Done. All that was left was to wait for the next battle. He was undoubtedly ready, but something in him was odd.

This time, he was wearing formal clothes. The classic black tuxedo with white shirt and black tie was quite the difference from his usual tracksuit. He seemed calm like always, but the change of look made him seem much more refined. Maybe he wanted to outmatch the zebra's good looks?

Silently, but with a serene smile in his face, the avian took interest in the "exposition", moving slowly along the "artifacts". This made his mind wander about his previous battle stages. The mall shouldn't be too big of a problem to fix but, that inhabited village, now reduced to wild flora and devastated buildings made him a bit sad. So many parts of that old town are now so damaged that history won't even remember the place as accurately as he would like. Hopefully, they can fix that too...?

Back to the present, he found himself watching the laser tag gun. He stood there, wondering what would have happen if he had to deal with this kind of obstacles in his way to the top. A thoughtful expression settled on him. Mmmmmhhh...
_________________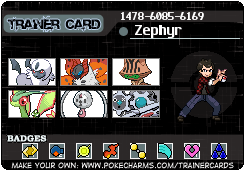 Games currently playing: Grip: Autosport (PC), League of Legends (PC), Grand Kingdom (PS4), Pokemon XD: Gale of Darkness (GameCube), Civilization V (PC), Fire Emblem Fates (3DS) and more...

ZephyrRapierre

Full Member





Posts

: 138


Join date

: 2015-05-26


Age

: 23


Location

: Somewhere over Spain



Similar topics
---
Permissions in this forum:
You
cannot
reply to topics in this forum