I've had a hankering for it lately, and my normal Role Play sites don't exactly fit my needs. Hopefully it will motivate me back into writing Fanfiction again too. I kind of stopped after a My Little Pony Crossover went over with no one reading it.
What else to say?
I am twenty five and have been playing Sonic since I could hold a controller. You can call me Kamille as it's my main OC's name. My Favorite game in the series is SA:1. Shadow is my Guilty Pleasure. My favorite Sonic song remix is Benjamin Briggs's Trash FM.

Also I pronounce it "Hi-dross-ity" instead of "Hydro-City"

HalfmoonHex

Advanced Member





Posts

: 192


Join date

: 2016-06-16


Age

: 27



Yooo, nice to meet you Kamille x3 I'm Elec - one of the admins, you can PM me anytime if you have trouble with something or someone c:
The age range of our members varies a lot, we have a lot of total newbies AND veterans like you so I'm sure you'll fit in!
Also, nice avatar - was it made by you? o3o we've got plenty of artists here so I wouldn't be surprised, honestly xD Is this your main?
And last but not least - if you use Skype, we have a group chat there! Admittedly there's some restrictions about joining, but they're really easy to fill in. You can find info about it in the subforums c:
Hope you have fun here~!
I didn't draw it. Someone on F-list just offered to draw it and wouldn't accept money. The weirdest part is that was the second person to offer to draw her for free.
Thanks for the information Elec.

_________________
"Sometimes I chuckle. Sometimes I do not." - Knuckles the Enchilada

HalfmoonHex

Advanced Member





Posts

: 192


Join date

: 2016-06-16


Age

: 27



'Hi-dross-ity'? You're dead to me.

I mean uh- ah- uh- Hello! And welcome to the forum! Hope you enjoy your time here, and if you need any help with anything, feel free to hit me up! (Or alternatively contact one of the staff members with like, actual power.)

Also, your character is adorable. Just like, throwing that out there.

_________________
I'm not sure whether to order the caramel sticky toffee pudding, or the chocolate fudge cake. The caramel pudding looks nice, but I know I like the fudge cake already.
~Something I said, in one of my more melancholy ponderous moods
Ah, a new member! Welcome! *bows* I am the red blur, or red, or Chris, or whatever you wanna call me (Elec seems to have this thing with calling me Blue) and I appear to be the first person who isn't a mod to welcome you. Hooray! But, yeah, I'm still a newbie (been around 4/5 weeks now), but I'm happy to show you around the place and join an RP with you.

Hope to see you in the RPs in the future!

~Red

_________________
To right the countless wrongs of our day, we shine this light of true redemption. That this place may become as paradise. What a wonderful world such would be.
Fantastic
art of Caen done by the damn fine Electrisa!

The Red Blur

Hero





Posts

: 1204


Join date

: 2016-05-02


Age

: 18


Location

: stumbling through the cosmos...



I'm so sorry Red it's just that Blur is one letter away from Blue and it just sorta happens man

And I have to agree with Dre, your character is very cute, Kamille <3 I've got a lil request though! Mind putting in your signature (you can get there by clicking that big ol "Profile" button on the top of the screen) the name of the artist who drew your avatar? Or, if you think they'd rather be anonymous (for wahtever reason), just put that it was made by a friend or something, please and thank you~
_________________
Avatar made by Uncanny Illustrator c:
I haven't been able to find him since. I only knew him through f-list and it seems like he's deleted his character.

_________________
"Sometimes I chuckle. Sometimes I do not." - Knuckles the Enchilada

HalfmoonHex

Advanced Member





Posts

: 192


Join date

: 2016-06-16


Age

: 27



Hello new person o/
Welcome to the site! I look forward to rping with you hopefully sometime in the future :3
I agree with the adorableness of your avatar, so adorable!
_________________
The best things in life are always someone elses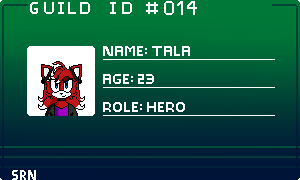 My OC Bios:
Tala the wolf
Yukiko Crescent
Zephryos Dumisa
Malakai Lerato

ForevaYoung

Master Member





Posts

: 531


Join date

: 2016-06-04


Age

: 26


Location

: Special blanket fort



Why thank you. I do hope we play. You're also welcome to play my sonic tabletop rpg if you'd like. I'm trying to alpha it and finish the mechanics.

_________________
"Sometimes I chuckle. Sometimes I do not." - Knuckles the Enchilada

HalfmoonHex

Advanced Member





Posts

: 192


Join date

: 2016-06-16


Age

: 27



---
Permissions in this forum:
You
cannot
reply to topics in this forum