So I was in a Stream one jolly day and Dregan happened to be there
and uh-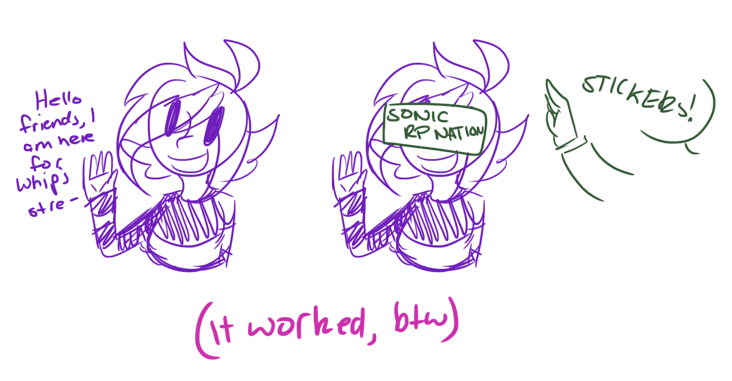 (Dregan is truly a master of advertising)
SO HERE I AM!
Hi! I'm Remmy and I'm sort just here and there. You can call me Rem, Remcakes- whatever suits your fancy -v-
I'm an artist, I like to RP occasionally and I don't know what I'm doing 99% of the time.
Hello 8D

Remmis

Newbie Member





Posts

: 3


Join date

: 2016-03-03


Age

: 21



runrunrunRUN RUN RU NR U NR URN RUR N URN RUN RU NR U NRU NRU NR


*TACKLE GLOMP* 


Yo Rem. Welcome to the forum. c:
IT's cool here. c:

Whip~

Full Member





Posts

: 108


Join date

: 2015-05-09


Age

: 23


Location

: Places



Well hello there, and welcome to the forum! I'm afraid now you're here, I must inform you that those stickers were in fact double-sided sticky tape. You are now quite literally stuck with us. Forever.
#DreganHeadOfMarketting

_________________
I'm not sure whether to order the caramel sticky toffee pudding, or the chocolate fudge cake. The caramel pudding looks nice, but I know I like the fudge cake already.
~Something I said, in one of my more melancholy ponderous moods
Oh gosh, I really should get better at greeting new people to the forums... especially those I have definetly never met before, nope no sir. Whats a Whip and how are you friends with it?


c:

But in all seriousness, I hope you enjoy it here, Rem! If you don't, we will all be sad, and forced to sacrifice you, I think :c I don't make the rules I'm afraid.
_________________

spark tb

Expert Member





Posts

: 440


Join date

: 2015-11-13


Age

: 22



you actually did the thing, oh lord I am so sorry
i mean
WELCOME TO THE FORUM
I HOPE YOU ENJOY YOUR STAY??

Spekkal

Staff





Posts

: 1819


Join date

: 2012-03-08


Age

: 22


Location

: England



Gawd Spek, you forgot to say you're an admin and for her to call on you for help. You're slipping Spek. Gawd Spek. Gaaaawd.

_________________
I'm not sure whether to order the caramel sticky toffee pudding, or the chocolate fudge cake. The caramel pudding looks nice, but I know I like the fudge cake already.
~Something I said, in one of my more melancholy ponderous moods
Hello Rem ;D
Welcome to hell, there is no escape, we will keep you here forever.
Regardless though, if you ever have like questions, feel free to ask.
And enjoy your stay here c:

Uncanny-Illustrator

Hero





Posts

: 1372


Join date

: 2012-12-09


Age

: 25



---
Permissions in this forum:
You
cannot
reply to topics in this forum