Page 6 of 6 •
1, 2, 3, 4, 5, 6

@Blitz Only two matches have winners yet. The rest still needs to be judged completely, so no winners have been announced at all in the lounge.))

Uncanny-Illustrator

Hero





Posts

: 1381


Join date

: 2012-12-08


Age

: 26



*Pouty Face* (Partypooper)
_________________
They say truth is the first casualty of war...but who defines what's true?
Truth...is just a matter of perspective. The duty of every soldier is to protect the innocent, and sometimes that means preserving the lie of good and evil - that war isn't just natural selection played out on a grand scale.
The only truth I've found is that the world we live in is a giant tinder box. All it takes...is someone to light the match.

Blitz Zhavanx

Senior Member





Posts

: 282


Join date

: 2015-07-13


Age

: 20


Location

: Out Of My Mind, Back In 5 Minutes



Malware suddenly burst into the room in an excited manner. He was ecstatic that he had actually survived and won his first match ever. I won! Mal... Ware rocks! Mal... Ware rocks, Malware 2.0 repeated over and over in his mind. Eventually, he left the lounge for some reason. At least the obnoxious, haughty hacker was gone for a few minutes. All was peaceful in the longe... until Malware entered the lounge with a trombone. Where did he have the time to find a trombone? It didn't matter now since Malware played the trombone in a tone that sounded similar to "Mal... Ware rocks." He kept on playing the same tune over and over and over and over again in celebration over his first victory. Now Malware was just intentionally trying to disrupt the emotional state of everyone in the room. When he would stop is anyone's guess.

(I'm not too sure if I can post in here. Hopefully, I can).

The_Terror

Senior Member





Posts

: 225


Join date

: 2014-06-18


Age

: 20



(Aye, it's fine for you to, just be aware tomorrow we'll probably start wrapping up this topic and opening a newer lounge topic for the next round.)
_________________
Feel free to check out my comic, Bar'd, right here;
My characters may be found here;
Dregan's Toyhou.se
Completed character profiles are;
JC
|
King Zeke
|
Maverick
|
Suave
If you wish to ask any of my characters questions, you can go here;
Ask Dreg's Dudes & Dudettes
(...Okay, one sec, just re-read that post properly, was that a goddamn New Day reference?)

Greg jumped slightly at Malware's entrance. He jumped even more at Malware's second entrance as the trombone parped right past his ear. Realising he'd been quite distracted by the whole Envy fiasco, he jumped up to glance between the different screens. It seemed like many of the matches were now wrapping up - with some of the competitors such as Malware having even already left their own arenas, either to return to the Lounge, or to head home, at their own disgression.
Speaking up in his ear, the tournament sponsors instructed him to step up to the side of the exit, and give a little speech. And - being the handsome host he knew he was - he obliged.
"Ah! Uh, ladies and gentlemen!" he spoke up with a grin, "We hope you have enjoyed your time here for the first day of the Tremendous Tribulations Tournament! Whilst the matches are wrapping up now, the Lounge shall be open for the remainder of the night, so eat, drink, and be merry! Tomorrow will be your day off - a time for those who have fought to see our healers and begin recuperating, and a chance for people to watch the matches they've missed. Time for everyone to get ready and get studying - because the day after, we'll be opening up the Lounge again... and opening up the arenas, for the second round combats! I hope to see all of you there!"
With that, he paused a second... before removing that earpiece. Seemed he'd done everything he had to do in any official capacity today. All he'd have to do is filter people out if they did stay too later, but for now... he could relax.

(Gonna be starting up Round 2 Lounge in a bit - still, will be leaving this open for people to wrap up anything they want to, finish up interactions, whatever! Just be aware that anything you post in here will be chronologically 2 days before anything you choose to post in the next Lounge topic when it goes up. Other than that, go wild and have fun!)
_________________
Feel free to check out my comic, Bar'd, right here;
My characters may be found here;
Dregan's Toyhou.se
Completed character profiles are;
JC
|
King Zeke
|
Maverick
|
Suave
If you wish to ask any of my characters questions, you can go here;
Ask Dreg's Dudes & Dudettes
Envy got angry a Malware's trombone, so he plugged his ears... With magic.

Then he unintentionally fell asleep.
_________________
Thanks to the amazing Uncanny-Illustrator for the adorable avatar! 
Character: Envy.
I'm not dead!

Envy the Jealous

Expert Member





Posts

: 346


Join date

: 2015-06-19


Age

: 18


Location

: Being jealous of all the great artists on this site >.<



Well, to say the least, at was an... interesting first round. The griffon stood upright at Greg's speech, and gave a grin and a curt nod his way. It was a shame that she didn't get to fight, but she now at least had an advantage over some. Maxie still had her tactics hidden, her ace in the hole, her skills a mystery. 

She stretched with a slight hip sway and an arms raise, her feathers bristling with her fluid movements. Upon relaxing, the white avian glanced around the room one last time. The victorious were confirmed. And she'd be fighting any one of them.
A smile.
"Weelllll this baby girl needs her beauty sleep! So ta-tah, my darlings, and I'll see your wonderful faces lateer! OHOHO~!" A laugh later, and the odd griffon went to make her leave.

Spekkal

Staff





Posts

: 1826


Join date

: 2012-03-08


Age

: 24


Location

: England



Well, no fight for him today. But he gathered some good information. Today was productive and he even made some new acquaintances. Unfortunately, there was nothing else to do, so he decided to leave the lounge.

"I'll be leaving as well. I should prepare myself for the next round, now that I know next time I'll fight for sure. If you'll excuse me..." He said as he got up lazily and, with a soft smile, he went to the weapon rack to take back his sword and leave, trying to ignore Malware's noise.

As he left the room, he quickly took his notebook and noted the last pieces of info for today. He also had to arrange the info to build up some strategies, maybe try to verify some of it. But since some of the fighters didn't fight this round, like himself, he couldn't depend on these notes for the upcoming battles.

"Better prepare as best as I can. Otherwise, I could end up having a nasty surprise..." He muttered lowly, remembering that a certain someone had a really bad time. He didn't want to end like him. Not like that..
Last edited by ZephyrRapierre on Wed Dec 16, 2015 9:45 pm; edited 1 time in total (Reason for editing : Little error)
_________________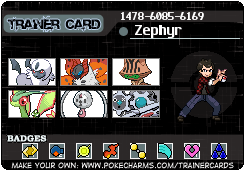 Games currently playing: Grip: Autosport (PC), League of Legends (PC), Grand Kingdom (PS4), Pokemon XD: Gale of Darkness (GameCube), Civilization V (PC), Fire Emblem Fates (3DS) and more...

ZephyrRapierre

Full Member





Posts

: 138


Join date

: 2015-05-26


Age

: 23


Location

: Somewhere over Spain



Page 6 of 6 •
1, 2, 3, 4, 5, 6

Similar topics
---
Permissions in this forum:
You
cannot
reply to topics in this forum