Alright, so, as you all know, I do graphics design. Woop!

This theme has been around for a long while now, and I'm thinking about changing it to spice things up a little bit. Of course, there's an issue.

I don't know what theme would be good.

Instead of the murky gray and the scrap brain background, what do YOU guys think would be a good theme for the site?

Colours, pictures, style... etc.
3D models look cool, but maybe you want to stick with the Adventure style pictures? I dunno! But leave suggestions. If you're one of those people who hate change like me (except for this instance) then post below why you think SRN should stay the way it is when it comes to graphics. There's no poll, just a reply section.

If no-one replies, then it stays the same.

If one person wants to change the site and no-one else suggests anything at all, then I'll go with that one person's change. So be sure to give your say.


You won't be able to complain afterwards.
_________________


Caliburn

Hero





Posts

: 1124


Join date

: 2011-11-22


Age

: 21


Location

: A... Closet???



Personal I say not to change the theme but maybe some of the graphics like the banner and the topic buttons, but not the colors we have now since it is pretty nice on the eyes if you have to read a lot of text and it makes it so you don't have to strain your eyes

Uncanny-Illustrator

Hero





Posts

: 1381


Join date

: 2012-12-08


Age

: 26



I'd say just change the background to a different level. I'm getting kind of sick of Scrap Brain. Maybe another dark level like Star Light Zone or something, in order to keep the easy on the eyes effect. Changing the grey to another colour might spice it up too.

_________________
"We choose to go to the moon. We choose to go to the moon in this decade and do the other things, not because they are easy, but because they are hard, because that goal will serve to organize and measure the best of our energies and skills, because that challenge is one that we are willing to accept, one we are unwilling to postpone, and one which we intend to win, and the others, too."-John F. Kennedy
Used to be a lot cooler when we actually did stuff and didn't just care about how much money we make.

Sol

Expert Member





Posts

: 321


Join date

: 2013-03-03


Age

: 23


Location

: Moo. Hey, look some cheese!



My vote is for something urban. The terrain from Metro Madness Zone on Sonic BTS had some interesting design elements that would make for a stylish layout without having to resort to an obscenely bright color palette.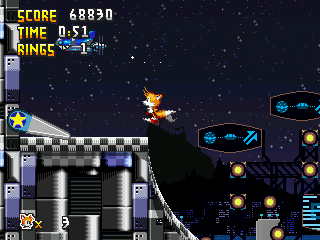 Wasn't able to find a decent picture detailing the backdrop, but it's mostly just your average run-of-the-mill 'tall sci-fi buildings with the occasional flying car' type thing.

Skylar Ferrix

Standard Member





Posts

: 63


Join date

: 2014-03-15


Location

: North Augusta, South Carolina



Similar topics
---
Permissions in this forum:
You
cannot
reply to topics in this forum