Page 2 of 2 •
1, 2

Out of all the current known characters i'd have to say Mephiles is one of my most favorite characters. I really like his design as well as his voiceactor in the game. It's a shame that in the end the timeline pretty much got erased because Mephiles had quite a bit of potential to be a great villain through other games as well.

Cyril Wer Kaldra

Master Member





Posts

: 712


Join date

: 2012-11-14


Age

: 28



Someone fight me right here right now.
I will legit take you on in the pit.
CAUSE GUESS WHAT, LOSERS, THE BEST CHARACTER IS RIGHT HERE;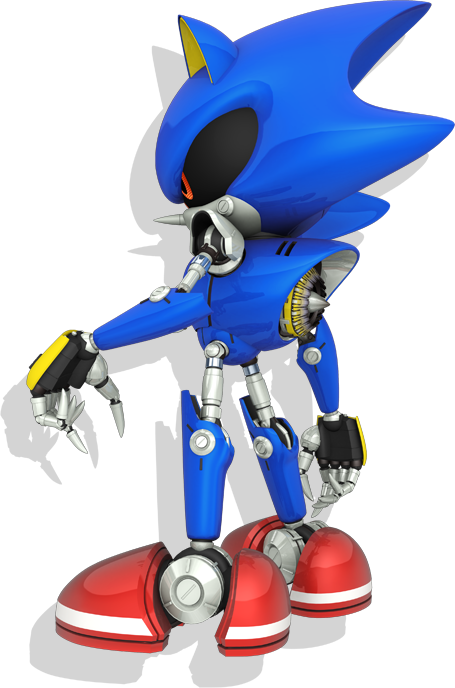 METAL SONIC, OF COURSE.
That desiiign alone was enough to just, like, insta-convince me that he was my favourite. There's just something... great about it. How sleek it is. Everything just pops, and it's weird how well it works despite, well, being blue and red of all things. And it works mechanically too, since he's supposed to be sleek and agile, as fast as Sonic.
I just like the character, okaaaay? I mean, I know it's the stereotypical 'voiceless-sometimes copycat robot who wants to be better' shtick which is done a million and one times, even in fancharacters, but I just like Metal Sonic. I like how intimidating he is. How, well, commanding he can be and that he is beyond his creator. That he's a staple villain, and a genuine threat when he shows up.
Fight me IRL I will defend this to the
grave.

Spekkal

Staff





Posts

: 1827


Join date

: 2012-03-08


Age

: 24


Location

: England



*Straps on boxing gloves*
We 'bout to fight Spek.
BECAUSE THE GREATEST CHARACTER OF ALL TIME FOREVER;
Is this precious bab right here. c:
OKAY, BECAUSE IN A WORLD OF SUPER-POWERFUL ECHIDNA AND A GOD OF DESTRUCTION BENT ON DEMOLISHING YOUR WAR-MONGERING RACE, TIKAL WAS THE ONLY ONE WHO THREW HER ARMS UP AND SAID "NO". SHE IS
THE
 REASON CHAOS DIDN'T WRECK SHOP WITH EVERYTHING 4000 YEARS AGO, AND WITHOUT HER, SONIC AND FRIENDS WOULDN'T HAVE BEEN ABLE TO PACIFY HIM AGAIN.
And that's not getting into the fact that she has one of the richest character histories in the games(Unless you count Tails' two spinoff games, in which case, right on little fox buddy~!), AND she's got possibly the most adorable interactions in the world, both with chao and other characters. CX
AND UNLIKE METAL SONIC, SHE WAS IN THE ANIME.
AND.
SHE'S PLAYABLE ONCE AGAIN.
AFTER LIKE 10 YEARS OR SOMETHING THEY BROUGHT HER BACK FOR SONIC RUNNERS.
AND I SCREAM.
TIKAL IS THE GREATEST OF ALL TIME AND SPEKKAL I WILL DESTROY YOU FOR THAT TITLE.

Whip~

Full Member





Posts

: 108


Join date

: 2015-05-08


Age

: 24


Location

: Places



I like Sonic,Unlike some people that don't like him.

I like him because he not strong but because he has guts and he dosent give up and he comedic and cocky

WhiteFang

Advanced Member





Posts

: 188


Join date

: 2015-09-19


Age

: 18


Location

: A place .... In the galaxy



I love Silver. He's often the subject of the most silliness in my fan-fictions. His new Comic arc "The Silver Age" is apparently pretty good too.

Villian wise I like Fang the Sniper. That's because I play as him in Sonic The Fighters and the Hooligans in Archie Sonic are pretty funny.

_________________
"Sometimes I chuckle. Sometimes I do not." - Knuckles the Enchilada

HalfmoonHex

Advanced Member





Posts

: 192


Join date

: 2016-06-16


Age

: 28



Thanks to Archie Comics' own Evan Stanley and her brilliant fan comic: Ghosts of the Future. I've taken a liking to both Silver and Blaze.


Beforehand it was all Shard and Sonic. I have a great love of all things robotic and/or snarky.

And from what I've seen, Gold from Sonic Universe looks promising. In an interview Stanley said she was canon into other women. Good for them finally having diversity.

_________________
Icon by me

Codename-Jack

Full Member





Posts

: 112


Join date

: 2016-12-27


Age

: 23



Page 2 of 2 •
1, 2

Similar topics
---
Permissions in this forum:
You
cannot
reply to topics in this forum